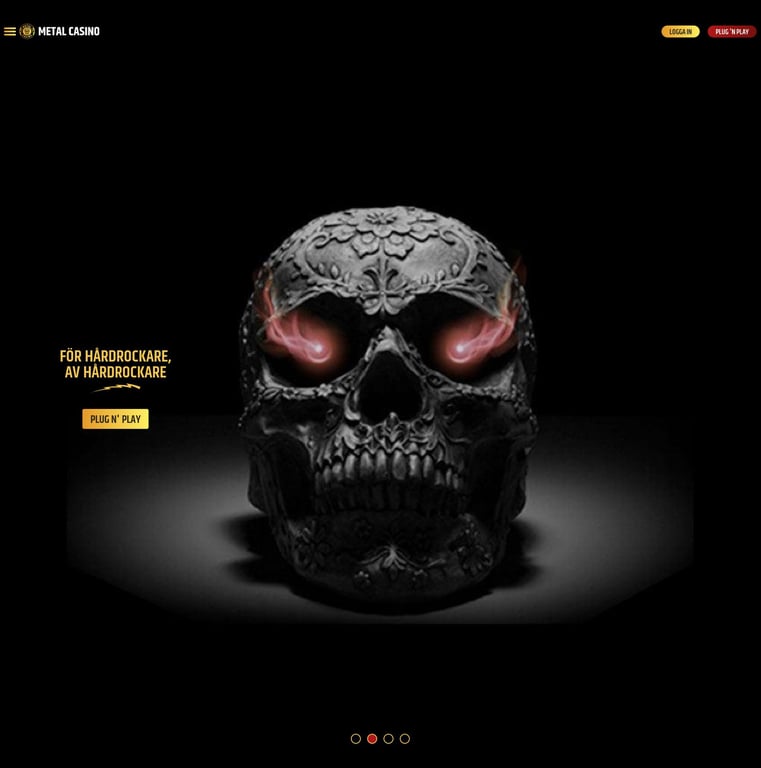 Metal Casino really tries to get its players to feel something. This rocking online casino opened in 2017 and tries to bring together guitar music and online gambling. This is clear as soon as players load the platform, because the background of the site is an electric guitar that takes up most of the screen.

Alongside the six-string guitar are a number of cards and chips that make it clear that metal music and casino games go together. On top of that, the website's logo is a skull, which is a common symbol for heavy metal music. It's not a typical online casino theme, and it won't be to everyone's taste or liking, but it's different and shouldn't be looked down upon for that reason.
Software and Games at Metal Casino
On the left side of the screen is a button that will take players to the Metal Casino website's games page. When people do this, a list of slots with the title "killer games" shows up. This goes along with their theme of combining online casinos and rock 'n' roll, and it's also a good way to show off some of the most popular games on the site. Considering the theme of the platform, titles like Motorhead, Guns 'n' Roses, and Jimi Hendrix, to name just a few, stand out in this section. Fans of the rock and roll theme are sure to love these titles.
The jackpot games that can be played on the site can be seen further down the screen. People who hope to win a huge amount of money one day should go straight to this section and spin one of these. Progressive jackpots on games like Mega Fortune often reach six figures or more, so it's a good idea to keep an eye on how much the prize money goes up to.
Players can also try out the other casino games that are promoted on the Metal Casino platform. Roulette, Blackjack, and Poker, which are always popular with players and casinos, are among the games that stand out. Also, don't forget that you can play live casino games on this site, many of which have great HD quality. People who want to play these live casino games will have a great time playing them because the graphics look like movies. There's no doubt that players will have a great time with the games on Metal Casino.
Promotions and Bonuses at Metal Casino
The Metal Casino platform's welcome offer for new players is very eye-catching, in part because of its name. They're called "kick-ass," and punk fans will love them. The welcome package is split between the first two deposits that new players make. When a player makes their first deposit on the site, they can get a 100% bonus worth up to €100. Then, when players make their second deposit, they will get an offer for a 50% bonus worth up to €100.
Even though the bonuses are good and spread out over two deposits, it's too bad that new players don't get free spins or a free bonus with no deposit. This will let them try out the real Metal Casino without spending any money. Other online casinos offer free spins or money, so this is an area where the site falls short when compared to its competitors.
After taking advantage of the casino bonus, players can get another bonus if they play between 10 p.m. and midnight every night. But it's a shame that the site doesn't have any more deals for people who already play there. On top of that, the site doesn't have any clear rewards or VIP packages, which is another shame. Because of this, the Metal Casino's offers could most likely be better.
Banking at Metal Casino
There is a page on the website that shows all the ways to deposit and withdraw money. This makes it easy for visitors and players to understand. Most ways to deposit and withdraw money are instant, and the lowest amount a player can deposit is €10 and the lowest amount they can withdraw is €20. Just be aware that some methods cost money, so players should keep an eye out for that.
In the bottom right corner of the website, there is a small icon that opens the site's live chat service. Players who speak English, Swedish, or Norwegian can also choose this option. It's great that customer service is offered in three languages, so players can feel at home and understand the answers to their questions.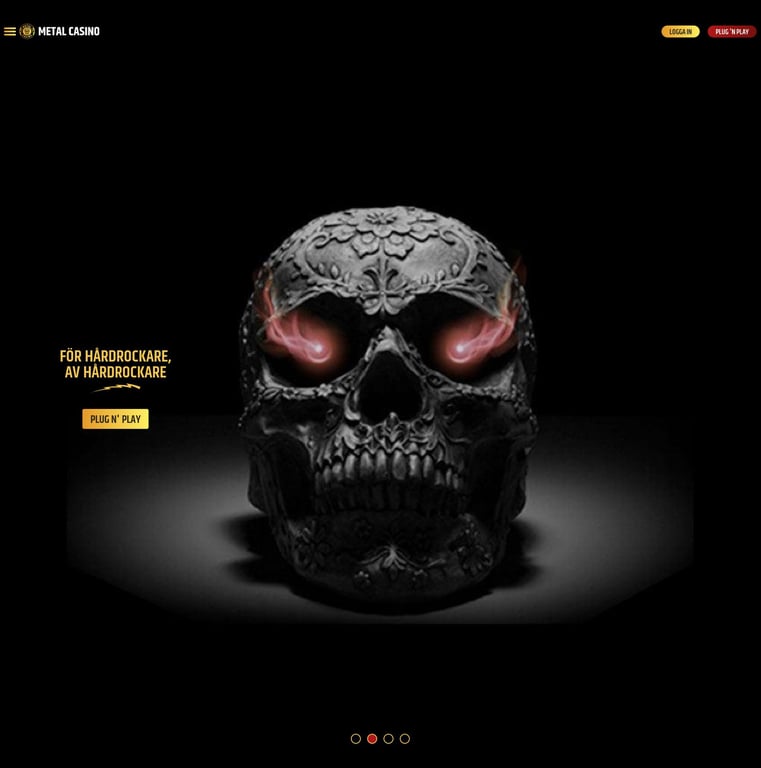 Metal Conclusion
In the end, the Metal Casino website is a bit different from other online casinos. They have a great range and selection of games, and those who want to buy some merchandise while they play can also do so.
It's too bad that the site doesn't have any more promotions and offers and doesn't give new players a free deposit bonus. But this is a fun place to play because customer service is available in more than one language and there are many ways to pay. Overall, if you like heavy metal rock and online casinos, you should DEFINITELY sign up for Metal Casino.